Qualifications for Becoming a Radiologist
May 27, 2014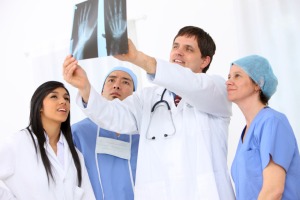 What are the qualifications required to become a radiologist?
If you are seeking a career in the medical field and have a predisposition towards technical work, training to be a radiologist may be the ideal career path for you.
Radiologists are always in demand within the medical profession and earn respectable salaries, making it a sound career path at a time when jobs are difficult to find.
What is a Radiologist?
A radiologist is a physician and a radiology technician is not.
Radiologists use technology to examine tissues and organs in non-invasive ways. Having expertise in biology, physics and the entire disease process often allows radiologists to diagnose diseases and illnesses so that the appropriate course of treatment can begin.
Interventional radiologists use imaging guidance to perform surgery, which lessens the damage to healthy, surrounding tissues. These physicians make electronic maps that will guide instruments. They might perform the insertion of catheters, remove cancerous tissue or conduct other delicate procedures. This much gentler approach, as opposed to invasive surgery, allows patients to recover faster with fewer complications.
But, many radiologists work strictly behind the scenes analyzing studies, making diagnoses and consulting with physicians.
In the beginning of radiology, radiologists had only X-Ray films to work with, but times have changed and technology has taken giant steps forward so that nowadays radiologists have a variety of tools at their disposal.
Ultrasound
Magnetic Resonance Imaging (MRI)
X-ray Radiography
Positron Emission Tomography (PET)
Nuclear Imaging
Computerized Tomography (CT)
Anyone who enjoys intellectual stimulation might find being a radiologist much to their liking. Plus, if you're something of a techie, radiology is constantly advancing technologically.
Radiology Qualifications
What do you have to do in order to become a radiologist?
Your first step in becoming a radiologist is to get your Bachelor of Science degree from an accredited university. If you are a pre-medicine student, you are allowed to major in virtually any subject. However, the typical prerequisites are physics, biology, organic and inorganic chemistry, math and humanities.
Since getting into medical school isn't easy, you might consider bolstering your application by doing volunteer work, getting academic honors, engaging in scientific research and/or scoring highly on the MCAT, or Medical College Admissions Test
Once you have attained your bachelor's degree, you will move on to medical school. You should be aware that radiology is an exceedingly competitive field and therefore, many applicants will not be admitted to the program of study. So, try to make top scores on the USMLE, or United States Medical Licensing Examination---Steps I and II, specifically.
In your final year of med school, you will need to line up another four year stretch as a Diagnostic Radiology Residency. The average resident will work 60 hours or more a week and be on call some nights, as well. Once that hurdle is behind you, you may consider specializing in something like neuroradiology or interventional radiology. In that case, you would be looking at investing another one to three years in the fellowship program for the specific specialty.
As you can see, the road to becoming a radiologist requires commitment due to the rigorous radiology qualifications needed to enter this field, but it is definitely a great career choice for anyone interested in medicine.